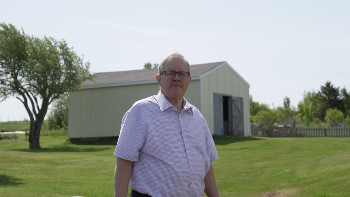 Ask any Islander and many will agree: a lot of things happen around the kitchen table.
Family meals.
Visits with friends.
Talk of the weather—good and bad.
Shared stories, laughter, and tears.
Lawrence MacAulay's kitchen is much like any other on Prince Edward Island.
The radio is tuned in to one of the local stations. The sound serves as background noise while his wife Frances peels and chops turnips with a swiftness that comes from years of feeding a full house.
Lawrence drops an ice cube into his mid-morning tea, then sits at the table where he adds a generous smear of butter to a cinnamon roll.
Hummingbirds visit the feeder hanging outside one of the windows. It's a breezy day on the hill in Midgell, making their meal a challenge.
"I figure the wind will have my tulips bent over by day's end," says Frances, who has a basket of laundry waiting to be hung on the clothesline where it's sure to dry in no time this morning.
Seems like the typical start to a springtime day inside many P.E.I. kitchens.
But a bit more goes on in the MacAulays' kitchen.
And has been, every day, for over 30 years.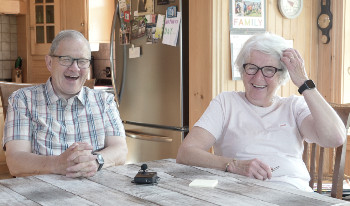 Welcome to Island Digital Voices.
We bring you the stories of interesting, notable, and otherwise memorable Islanders.
This is the story of Lawrence MacAulay, member of parliament for P.E.I.'s Cardigan riding for over 33 years.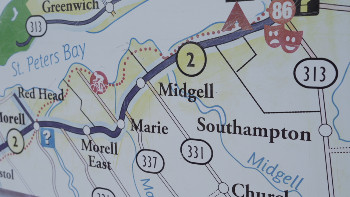 FROM POTATOES TO POLITICS

Lawrence's story begins above the kitchen inside the home where he's lived since 1946, atop the hill on Route 2 in Midgell, just before you get to St. Peters Bay.
A Canada flag flies high in the front yard, and in the back yard, barns and warehouses hold memories of earlier times.
"I was born in the bedroom in this house," says Lawrence. "In this house. On this farm. And I've lived here all my life."
The property has been in the MacAulay family for hundreds of years.
Lawrence's father moved the house from its previous location – "about a half mile back," Lawrence says, waving his arm through the air – to where it sits now.
His dad farmed the land, and when he passed away, Lawrence took it over.
Like many farmers will tell you: agriculture isn't just a way to make a living. Farming is a way of life.
His first day on the farm was the day he was born, says Lawrence.
"There was no real start. I was just basically born into it."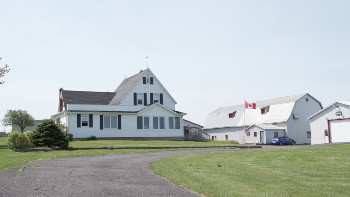 Lawrence met Frances in 1968, when they were both part of a local theatre group. They had a lot of fun and got to know each other, he says.
"And, I guess, I got a wife out of it, too."
They married in 1972 and had three daughters, Carolyn, Rita, and Lynn. They ran the farm together, keeping a herd of dairy cows and growing seed potatoes for P.E.I.'s potato farmers.
"And that's basically what we did until I got into politics."
That was in 1987, when Lawrence was asked to run as the Liberal party's nominee for the Cardigan riding. He was a bit hesitant at first.
"I never thought I would not be farming."
His family had some reservations, too.
"There was some concern about my abilities, that's for sure," says Lawrence. "I was the farm boy."
His siblings had all gone to university.
"And I certainly did not."
Some were worried he was giving up everything he and Frances had invested in the farm for the unknown life of a politician.
According to Frances, though, Lawrence has always been a bit of a risk taker. Lawrence says it comes with a life in farming, where many factors, such as weather, are at play.
"We were used to that. Used to taking risks."
It's something he says helped prepare him for political life.
"We understood what it was to have to make it work. And I think that helps when you go into politics," Lawrence says.
"If something happens, you have to deal with it. You can't say 'I'll leave it till tomorrow.' If you leave it till tomorrow, there'll be nothing left. In politics, it's the same."
Whether it's politics or potatoes, Lawrence says you have to be a businessperson. And you rarely get a day off.
"The cows didn't care if it was Sunday mass or Christmas Day, they needed to be milked. Politics is much the same. You're never really not working."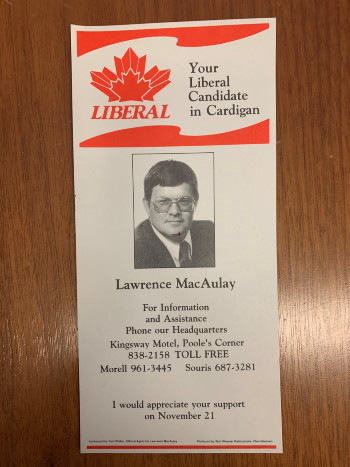 FROM MIDGELL HILL TO PARLIAMENT HILL
Lawrence's risk paid off.
In the 1988 federal election, he won the seat for Cardigan. His daughters were just 6, 8, and 10 years old at the time.
Lawrence recalls their eldest daughter Carolyn's reaction when he got elected.
"She cried 'Daddy is going to go away'. And I said, 'Dear, don't cry yet because a lot of things have to happen yet before Daddy goes anywhere.'"
But those things did happen. And before long, the farmer from Midgell was on a plane headed for Ottawa.
"It was quite emotional, the first time I got on the airplane and left Charlottetown. It was all tears."
In just a few months, Lawrence MacAulay had gone from sitting behind the wheel of a tractor to sitting inside Ottawa's House of Commons as a member of Parliament.
"It's quite the feeling sitting in there," he says.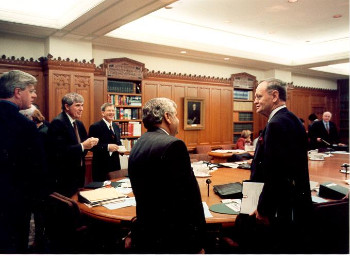 In Ottawa, Lawrence says one of his first duties as a newly elected MP was to hire an assistant.
"I didn't have a clue what to do."
He called Joe Ghiz, P.E.I.'s premier at the time and a fellow Liberal, and asked for some advice. Premier Ghiz put him in touch with Brian Tobin, a Liberal MP from Newfoundland.
Brian handed Lawrence a resume.
"If I was hiring somebody, I'd hire this one," Brian said.
"Well then, I'll hire her," said Lawrence.
"Oh, no, no. You can't do that. You have to interview her."
"I'll tell you one thing: I'm not interviewing her," said Lawrence. "I never interviewed anyone in my life!"
Her name was Lise. And Lawrence did hire her.
Lise accompanied Lawrence on one of his first trips inside the lobby of the House of Commons.
"This was all a big deal to me," says Lawrence. "And I went in and who was sitting there but the anchor for the CBC News—and she knew him!"
Lise introduced Lawrence to Peter Mansbridge.
"This is my boss," Lise said. "And I want you to interview him."
Lawrence was caught off-guard not only by Lise calling him her boss, but her request, too.
"Lise, could I see you for a minute over here?" said Lawrence. "That fellow is not interviewing me."
Now, 33 years later, Lawrence MacAulay has probably racked up more interviews in the last half of his life than potatoes he harvested in the first half of it.
And CBC's Peter Mansbridge? Well, he's gone on to retire.
But not Lawrence.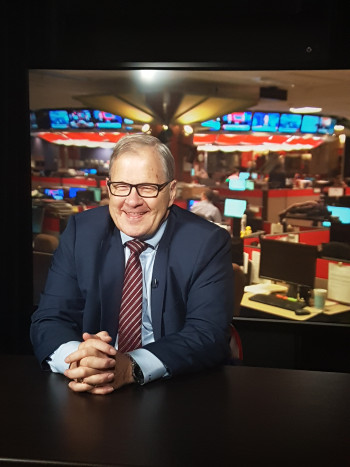 PARENTHOOD AND PUBLIC LIFE
Lawrence says Frances and his daughters adjusted pretty well to his transition from Dad the farmer to Dad the federal politician, but he knows life in the public eye hasn't always been easy for his family.
"Everything about your life is out there. Anybody can find out anything at all. Absolutely nothing is secret."
He remembers the first time he saw his name in a newspaper article.
"I was so proud."
But eventually he realized there's always another side to every story. And someone's always willing to tell it. Especially in politics.
"I always said to staff, 'If you can't look at it on the front page of The Globe and Mail, you better not do it.'"
These days, Lawrence says, his daughters keep a close eye on social media and keep him informed on what's being said about him.
"There's a lot of love in our family and they don't want me hurt. And they don't want Frances hurt."
 

Despite keeping family ties tight, Lawrence also recalls not being around for some important times.
Near the end of 1988, the federal government had just finalized negotiations on the Canada-U.S. Free Trade Agreement.
It was 2 o'clock in the morning on Christmas Eve and Lawrence was still in Ottawa. The House of Commons had just closed for the holidays.
"I'll never forget how emotional it was in the hotel room," says Lawrence. "We're always together. Our family loves Christmas. We still do."
Although he made it home to P.E.I. that afternoon, he says moments like that take their toll—and there's a price to pay for a life in politics.
"I paid it and my family paid it," says Lawrence. "You're away sometimes when you want to be home."
But, he says, his family had opportunities many others didn't, such as meeting people from around the globe.
"It gave our family a much wider view of the world."
That's helped his daughters in their professional lives, he says.
"They've listened to a lot of different minds. That helps expand your mind, which is important."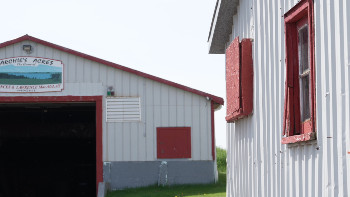 Even with the privileges that come with public life, Lawrence says his daughters also learned what a hard day's work was.
They helped on the farm, planting and harvesting potatoes, feeding the cows, and putting in hay. But, Lawrence says, they were clever enough not to do it for free.
"They would keep their hours. It might be three and a quarter hours," says Lawrence with a proud chuckle. "They weren't going to lose a minute of pay."
On top of keeping a job as a teacher for 35 years of her life, Lawrence's wife Frances helped a lot on the farm, too – working as the farm's bookkeeper and dealing with customers – and around the home, looking after their daughters.
Homework was always done together, around the kitchen table, just as it is in many homes across P.E.I.
Frances has been a "massive asset" to his success, Lawrence says—in family, farming, and in politics.
"We work together on everything, and it's made it so much easier for me. Truly."
If it weren't for Frances, Lawrence says he might not be where he is today. It's not something he talks about much, but in the past, he battled with alcohol addiction.
Frances stuck by his side.
"She stood with me when things were not so good. I probably wouldn't even be here if it wasn't for her."
Lawrence says he credits his wife not only for his success in farming and politics, but something much more important.
"I credit her with giving me a great life."

STAYING GROUNDED AND KEEPING CONNECTED
Just like in farming, the life of a politician requires passion and a dedication to the job. Issues arise. Business needs tending. Work never stops.
Lawrence knew something had to give.
"Once I got into politics, I learned that I had a full-time job. And it wasn't milking cows."
As an MP, his duty is to serve the riding—its communities and constituents. After all, he says, they're the ones paying him to do his job.
"So I better do it."
The MacAulays sold their dairy herd in 1990 and left the seed potato business in 1995.
Now, some of the buildings around Lawrence's homestead are used to host local gatherings and political events.
However, he and Frances make sure the same attention goes into catering for either, says Lawrence.
"If anybody was coming, whether it was Jean Chretien or somebody local just like ourselves, the same preparation was made for them all."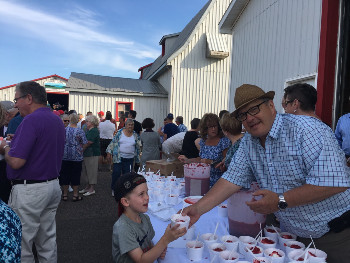 It's this kind of humility and rural pride that help maintain Lawrence's popularity—even though he scoffs at the idea of him being popular. (However, 11 consecutive terms in office might dictate otherwise.)
"You have to remember where you came from. If you don't remember where you came from, you're in trouble."
Lawrence might be a member of parliament, but you can still find his home phone number listed in P.E.I.'s phonebook.
It's an example of the kind of people the MacAulays are.
"I don't mind anybody calling here, anytime."
He's a good listener. You have to be, he says.
"It's why God gave you two ears and one mouth."
But he's just as skilled at speaking up when he has to, especially when it comes to asking government for things that will help the businesses and people in his riding.
He has a responsibility to act as the voice of eastern P.E.I., he says, so he makes sure to keep connected to the area and its residents.
"I'll tell you how you stay connected: you drive around. You go and see people."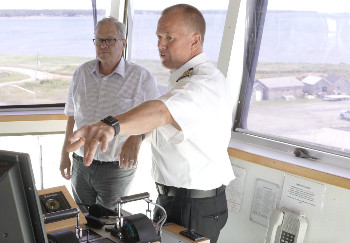 It's how he stays in touch with his community, he says. The constituents he serves. And who serve him in return by giving him their vote.
He says it's important to know what's going on in the lives of the people around you.
And if there's one thing Lawrence MacAulay is known for, it's going to see the people around him.
Anytime there's an anniversary celebration, birthday party, wake, or funeral in his riding, chances are Lawrence will be there.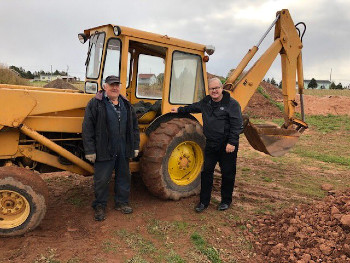 He's rarely behind a desk, he says.
"I have an office and I meet people in the office, but I'm not in my office. I'm around wharves or visiting farmers."
 

In fact, Lawrence takes pride in not even having an office inside his home in Midgell.
Instead, most business takes place at his kitchen table.
It's where a lot of work gets done, he says.
It's where the plans for Greenwich National Park were "hammered out," as well as the deals for UPEI's Centre for Climate Change in St. Peters, and the new ferry for Wood Islands.
"Most everything was done in this kitchen, around the kitchen table," Lawrence says. "That's where the family was and that's where we did a lot of other things in public life."
 

Folks will also drop in for a chat, a cup of tea and, if they're lucky, one of Frances's chocolate chip cookies.
Above the MacAulays' kitchen table, a sign reads 'Sit long. Talk much.'
And people do.
"It's how a kitchen should be," says Lawrence.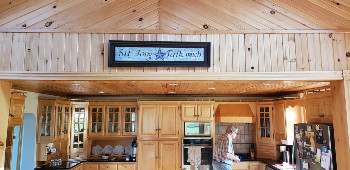 THE LEGACY LIVES ON
Much like his family home that's stood on the Midgell hill for decades, Lawrence has no plans of going anywhere anytime soon either.
"Oh, there'll be no end date at all. It doesn't end, does it?"
When you're a politician, you always have work to do, he says.
"Always something. Always a new day. Always a new issue."
At 75 years old, Lawrence won his 11th consecutive election in September 2021.
He's the longest-serving member of parliament in Prince Edward Island history and the second longest-serving MP in all of Canada.
He's held several roles over the past three decades, including Solicitor General of Canada, and Minister of Labour, and he currently serves as the Minister of Veterans Affairs and Associate Minister of National Defence.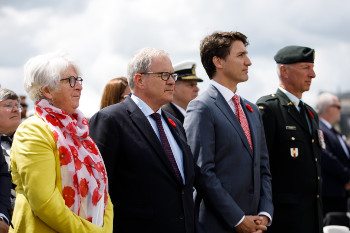 But he will forever be a farmer, he says.
"I think if you're a farmer, you're always a farmer."
And he will always be an Islander, too.
"There was never, ever any thought of going anywhere else," he says. "I love home."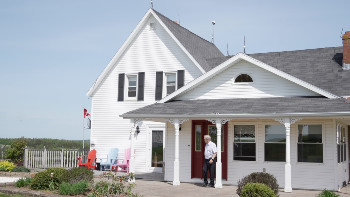 Whether at the kitchen table at home or the cabinet table in Ottawa, Lawrence says it's the people he's had around him that have made his life enjoyable.
It's the only way to get things done, he says.
"I'm great on getting the credit, but the fact is if you don't have people behind you, standing with you, it does not happen."
It might explain why he scoffs when asked what his legacy will be.
"I was never big on legacy. I just like to see what we can make happen tomorrow."
One day at a time, he says.
"And let me tell you, a day is a long time in politics."
But with 33 years of days behind him, and an undetermined number still ahead of him, many would say Lawrence MacAulay has earned the title of legend.