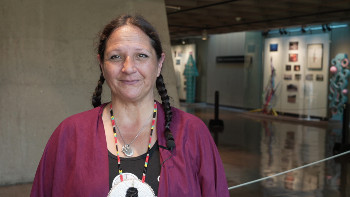 Every story has an end.
But if you ask Julie Pellissier-Lush, there is no final chapter in the book of her life.
Julie believes her story will go on, even when she's left this earth.
"I will be a great spirit."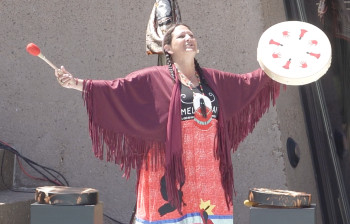 From a young age, Julie was immersed in the paranormal.
As a baby, she and her parents lived in a house on Lennox Island many claimed was haunted.
"That old ghost in that house loved to scare people, adults. But he would never scare children," says Julie. "He would leave children alone. But adults, they were fair game."
You might think her fascination began then. The reality, however, is much less sinister.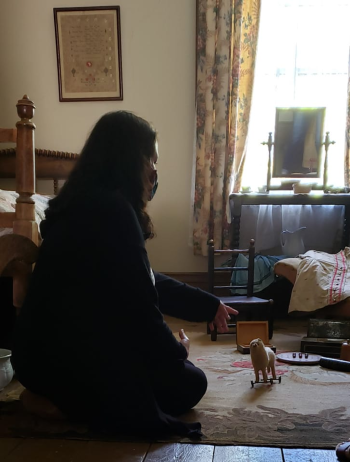 Belief in the spirit world was tradition, part of Julie's upbringing and history.
"It was part of our storytelling, part of our culture."
For the Mi'kmaw author, poet, and knowledge keeper, the 'paranormal' was known as something else.
"We called it our ancestors," says Julie.
"The ones who have passed on, that help guide us on the paths that we need to take, to be there when we need to pray."
It's the younger generation that relates better to calling it the paranormal, Julie says. But the meaning has remained the same: it's a bridge between the present and the past.
 
| | |
| --- | --- |
| Julie often visits schools and shares stories about Mi'kmaq legends with students. Erika MacDonald photo. | Julie helps students learn about some of the Mi'kmaq traditions and sacred teachings. Erika MacDonald photo. |

"It's a connection with our ancestors," she says. "Who was here before and who can still cross over."
As part of a team of paranormal investigators on Prince Edward Island, Julie tries to connect with those who have crossed over.
Mi'kmaq Paranormal is a group that investigates locations where paranormal events occur or where the presence of spirits is felt.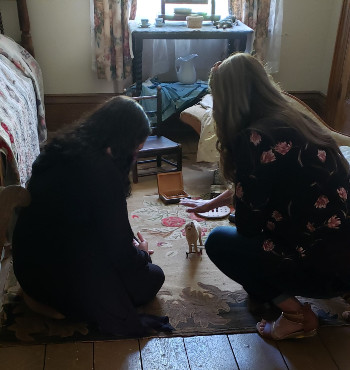 Julie, along with some of her family members in the group, also offer teachings and provide cleansings as part of their investigations.
"My family has very strong skills in terms of being able to connect with the spirit world," she says.
Julie's role is to document and record the investigations – and interpret their findings.
"I have the ability to be able to hear things that most people wouldn't hear or to identify things that most people wouldn't be able to identify."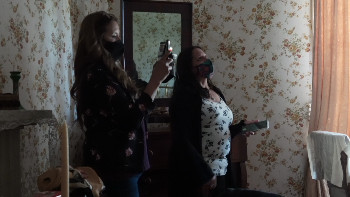 Through the teachings of Mi'kmaq Elders, team members learned to believe in the paranormal at an early age.
Julie even turns some of the Elders' ghost stories into poetry.
"I love to capture all the elements of their storytelling and move it into a poem."
This ensures the Elders' stories can be saved and passed down to future generations.
"We're an oral people," says Julie. "A lot of these stories would just disappear if nobody recorded them."
 
Julie sings and plays her drum for students at Queen Charlotte Elementary school in Charlottetown. Erika MacDonald photo.

 

Storytelling is an important part of Mi'kmaq tradition, says Julie, and these stories need to be passed on to future generations. Erika MacDonald photo.

 

While the tradition of Mi'kmaq storytelling is an important way to learn about past events, Julie says the paranormal is a way to stay in touch with people who have passed.
"It's an interesting way to keep connected to the ones that we've lost and to keep sharing the stories of the ones who may keep coming back."
And Julie has every intention of being one who comes back.
"I would be one of those good spirits that would listen to our paranormal investigators," she says.
"I will be that one when you say 'knock!', I will do whatever I can to knock."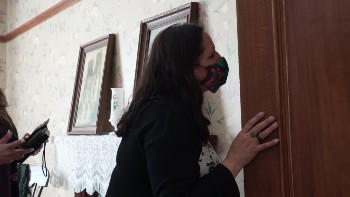 Whether through poetry or the paranormal, staying connected to her ancestors is vital, she says.
"It's a way to preserve the lives of those who've gone past, to be able to create an understanding that we aren't just gone after we pass on."
After all, we're all going to be ancestors, says Julie.
And our stories will live on.
"It's just, who's going to be telling it next."