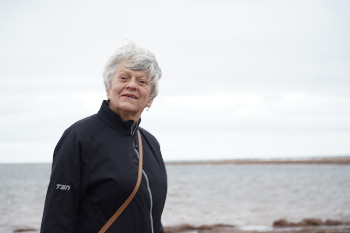 Antoinette Perry always began her school assemblies with a simple yet meaningful cheer.
"R-E-S-P-E-C-T spells 'respect' for you and me."
As vice principal of Tignish Elementary from 1998 to 2001, and throughout her 32-year teaching career, respect was something Antoinette instilled in her students.
It was a lesson she made sure to practise herself, too, because she also learned about respect from an impressionable teacher—her mother.
"She had a term: 'Respect is earned. It does not come with the position,'" says Antoinette of her mother's early teachings.
"So, when I was installed as Lieutenant Governor, that was one of my foremost thoughts—that I had to gain the respect of Islanders."
Welcome to Island Digital Voices.
We bring you the stories of interesting, notable, and otherwise memorable Islanders.
This is the story of Antoinette Perry, teacher, musician, and P.E.I.'s first female Acadian lieutenant governor.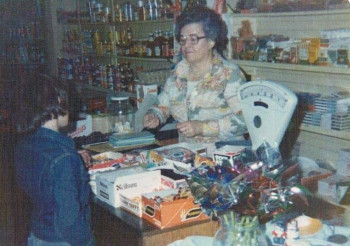 RESPECTING HER HERITAGE
Antoinette grew up in Tignish and lived upstairs from the store her parents owned and operated for almost 30 years, from 1948 to 1976—E.C. Perry's Grocery. Or, as it's better known today, Eugene's.
The store was – and still is – in the centre of town, not far from the convent where Antoinette went to school as a young girl.
She attended the French class from Grades 1 to 3. It wasn't until Grade 3 that a bit of English was taught to prepare her for Grade 4 and beyond, where every class was taught in English.
Antoinette continued to take French classes after school, however, for several more years.
It was important to her parents, particularly her mother, that Antoinette and her siblings remain anchored in their Acadian culture and their French kept alive.
"She insisted that we preserve our language."
Although Antoinette took core French classes up to Grade 12, she had forgotten much of its complicated grammar. So, after graduating high school, she applied to Université de Moncton, a French university in New Brunswick.
She thought it would be a good way to reconnect with her Acadian heritage and regain her French language skills.
"I had a great desire to recapture my French because I had lost a lot of it," says Antoinette. "And I knew the Acadian culture would be there."
At university, Antoinette studied general arts and music, with piano being her principal instrument.
Between 1972 and 1982, she studied Catholic liturgy - the scripts and prayers used in religious worship - and liturgical music, ultimately becoming a leader in summer liturgy camps and workshops.
She was director of music ministry for the campus chapel during her last two years at university.
"That, to me, was important," says Antoinette. "It was a contribution to my university community."
TEACHING IN TIGNISH
She returned to P.E.I. after graduation and in 1977, began teaching music at the old Tignish Elementary School.
"And since I had studied in a French university, I taught French, too."
When she first began teaching, Antoinette was leading 20-minute music classes 13 times a day to 430 students, as well as some core French classes.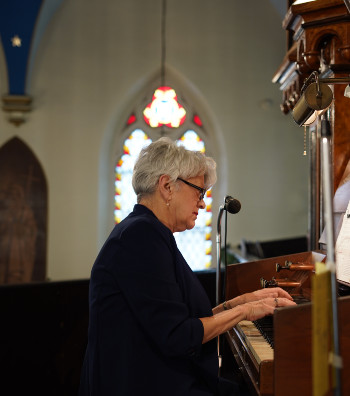 In 1979, French immersion was introduced to Tignish Elementary School. Antoinette saw it as an opportunity to embrace Tignish's culture and share her Acadian knowledge with students. So, a few years later, she began teaching French immersion to Grades 5 and 6.
She never shied away from local Acadian terms in her teachings, says Antoinette.
"I would say, 'Now go home and ask your grandparents if they ever use this word.' Or 'Listen to your grandparents. See if you hear this word being said when they're speaking French.'"
She says she felt a responsibility to not only her culture but to the residents of Tignish.
"In my teaching, there was an ownership, a vested interest in my community."
Even after she retired from teaching in 2009, that dedication to her community continued to motivate Antoinette.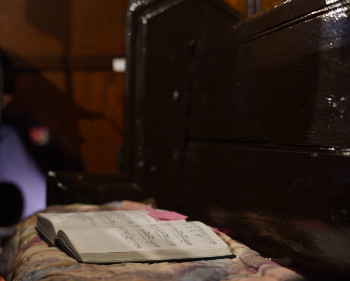 CONNECTING THROUGH MUSIC
Contributing to her community was something Antoinette had watched her parents do, either through the Royal Canadian Legion, education, sports, municipal politics, or conservation issues.
"People knew that if they came and asked Mom or Dad for help, they would help them."
Antoinette soon found herself in that same position.
Community members would reach out to her, particularly if they needed help with something musical, because she could read music at a level most people couldn't.
Most learned by ear and didn't know how to read music, she says. So, she was there to help.
"They would say, 'I wrote this song. Can you write it down for me in music notes?'"
She worked closely with the community on many musical projects, like Christmas or year-end concerts.
"I always worked with the community and church."
Throughout her involvement in music over the years, Antoinette was most drawn to liturgical music.
"That was my passion."
| | |
| --- | --- |
| The former convent where Antoinette attended school as a young girl is now an inn where she often recommends guests stay while visiting Tignish. (Melanie Jackson photo) | The St. Simon and St. Jude Catholic Church still stands in the town's centre in Tignish. (Melanie Jackson photo) |
As a young girl attending school, the nuns had taught Antoinette the basics on how to play the massive pipe organ inside St. Simon and St. Jude Catholic Church, located next door to the convent.
Playing the organ was practically a rite of passage for Antoinette, as many women in her family also had their turn at playing the 140-year-old instrument in the past.
"Both grandmothers played it, my mother played it, my aunt played it, and my older sister played it."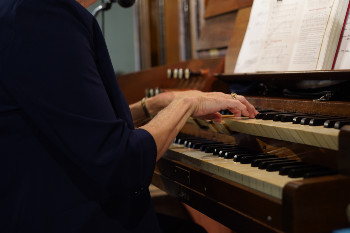 Playing the organ connects her to her heritage, says Antoinette.
"That pipe organ makes me breathe Tignish."
In fact, the air that fills the organ's huge bellows is drawn from inside the church, where parishioners sing and pray. And years ago, the air was drawn from outdoors.
So, the pipe organ literally breathes Tignish as well.
It was suggested that the intake of damp, seaside air around Tignish most likely contributed to some of the organ's deterioration over the years.
"Some of the pipes cracked from the cold and moisture."
She knew something had to be done to save the historic instrument.
| | |
| --- | --- |
| Antoinette still plays the organ at her church one or two Sundays a month, for both the English and French masses. (Erika MacDonald photo) | The organ's bellows (pictured here) draw in air from outdoors, so they literally "breathe" Tignish. (Melanie Jackson photo) |
IT TAKES A VILLAGE
Antoinette was a key figure in the Organ Restoration Committee that raised $150,000 to restore the church's pipe organ.
"And not a cent, not a dime came from government."
It was the generosity of the community that ensured they met their fundraising goal for the restoration project, which was completed in 2011.
Antoinette says if there's one thing Tignish should be known for, it's the kindness and selflessness of its residents.
"When I'm saying generous, I mean generous—with time, with effort, with whatever is needed."
Her family was no exception.
At Christmastime, her mother would sometimes give away groceries to community members in need, says Antoinette.
"I saw on Christmas Eve, more than once, people going out of our store with toys from the toy land and food for Christmas dinner."
No money would be exchanged, she says.
Much like respect, generosity is a two-way street: if you give it, often it will be returned.
Antoinette's eldest sister, Jean, works behind the meat display cooler while her younger siblings enjoy their red delicious apples.

Back row (l to r): Marcella, Antoinette, Nola
Front row (l to r): Anita, Tommy, Barbara

(Contributed photo - 1960)

Antoinette's father, Eugene, took great pride in neatly displaying the store's groceries. He always served customers equally in both French and English.

(Contributed photo from mid-1950s)
A CALL TO DUTY
Appreciating people who are generous with their time and support was another virtue Antoinette learned from her mother.
"My mother taught me that whoever is helping me in whatever task I have – if I'm the president, the chairperson, the secretary – the people who work with me and help me, I have to acknowledge and recognize their contribution."
Antoinette saw her mother set this example all the time. She would give her helpers a bouquet of flowers or make a phone call to extend her thanks for their help.
Like her passion for music, helping others through volunteering was something Antoinette was deeply dedicated to.
"I wouldn't be able to count the number of hours," says Antoinette of the time she's devoted to volunteering - especially with the West Prince Music Festival, which she co-founded in 1980.
As part of her volunteer work, she attended many community and cultural events. That's where she met Honourable Frank Lewis, the lieutenant governor at the time (from 2011-2017) and became intrigued by the role.
"I observed him in his role at these functions and thought, 'You know, that's something I would enjoy doing.'"
The idea of delivering opening remarks at various events, meeting new people, and celebrating P.E.I.'s culture appealed to Antoinette's sense of community spirit.
Giving awards to people who volunteered was a service she felt drawn to, she says.
"Just to be able to do that would be something else," says Antoinette. "I knew I'd like that.'"
On August 4, 2017, she got a phone call.
"If the prime minister called you and asked if you would accept the position of lieutenant governor, what would you say?" asked the caller.
"Really? I'd say yes. It would be an honour," said Antoinette.
The call from Prime Minister Justin Trudeau came on September 12 that same year.
Former Governor General, the Right Honourable David Johnston, then called to confirm her appointment.
Antoinette Perry would be installed as Prince Edward's Island's first female Acadian lieutenant governor.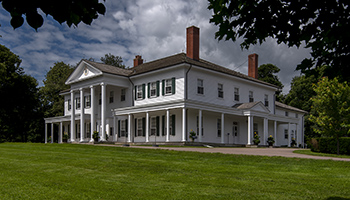 HOME IS WHERE THE HEART IS
Antoinette said her decision to accept the offer was an easy one after observing Honourable Frank Lewis and how the position enabled him to connect with so many people, just as she had done in her roles as a teacher and volunteer.
And just as she had seen her mother do.
"Coming into this role, I realized how much she modeled me. She was my mentor."
Pride in her Acadian culture and her hometown was also at the forefront for Antoinette.
Her installation ceremony was held in Tignish, going against the usual protocol for Canada's lieutenant governors. Province House, where the event traditionally took place, was undergoing a complete restoration. So, the event was held at the Tignish Parish Centre.
Not only was it the first time in P.E.I.'s history that a lieutenant governor wasn't sworn in at Province House in Charlottetown, Antoinette was also the only lieutenant governor in all of Canada to hold their installation ceremony outside their province's capital city.
"The community, to this day, is proud," says Antoinette of the October 20, 2017 ceremony.
Antoinette Perry shakes hands with Premier Wade
MacLauchlan (2015-2019) at her installation ceremony
in Tignish while Cardigan MP Lawrence MacAulay
looks on. (Government of PEI photo)

Antoinette was the first lieutenant governor in Canadian history to host their installation ceremony outside of the provincial capital.

"The community, to this day, is proud," says Antoinette. 
(Government of PEI photo)
 
In her first two years as lieutenant governor, Antoinette estimates she had between 375-400 engagements each year. It's been significantly less since COVID, though, she says.
But she's still making lots of connections and staying in touch with Islanders and her Acadian roots.
Despite her busy schedule as lieutenant governor, Antoinette still travels to Tignish twice a month to play the pipe organ at Sunday mass—for both the English and French services.
She considers it a way to serve and stay connected with her community and her family.
"There's a togetherness there."
And, as Antoinette will tell you, coming together is something the people of Tignish do well, especially in times of tragedy.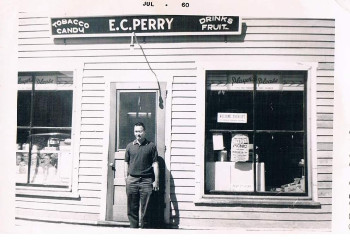 A LANDMARK LOST
It was a Sunday in the fall of 2019. Antoinette had just finished playing organ at that day's mass when the bishop approached her.
"Your Honour, I am so sorry to hear that your former home is on fire," he said.
Someone had come to the church and told him Eugene's store was on fire, the Perrys' former business and family home.
Antoinette rushed to her old apartment where her sister Jean now lives.
Together with her sister – and many other people from the area – Antoinette watched as her childhood home burned.
"You would not believe how many people in the community came over and said, 'We're so sorry for your loss.'"
People from all across P.E.I. expressed their sympathy at the loss, she says—even Premier Dennis King.
That was their home, says Antoinette.
It was the centre of the village, a gathering place where storytellers, like her father, kept local folklore - with its memorable characters - alive for generations to come, she says.
It was a whole era, reduced to a pile of rubble and ashes, Antoinette says.
However, its legacy remained intact.
"The physical building was gone, but the memories will never, ever be gone—because they're etched here," she says, pointing to her temple.
"They're not in a building."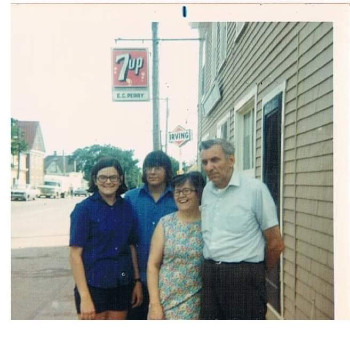 THE MUSIC PLAYS ON
Antoinette plans to build new memories in Tignish when she completes her term as lieutenant governor.
She purchased a lot of land near the centre of Tignish, close to the school, the store property, and the church that hold a special place in her heart.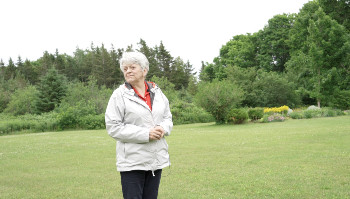 "I want to build a house, not an apartment," says Antoinette. "Then I can have more room to welcome my visitors."
A home with an office "on the sunny side" where she can write her mother's memoirs, she says.
A home where she can play her piano "without bothering the neighbours."
A home where she's only a short walk from the pipe organ she still loves to play.
"It's working beautifully. I played it the other day."
A home where she can stay connected to her family, her community, and her Acadian heritage.
"My biggest connection to the community is and always will be my family."